It's over. 25 years in the making and 4 days in the experience. A lot of hard work and planning went into making Keycon 25 the event that it was. With out all of the ideas, sweat and tears of those before us it would not have been possible to do it at all.
Our Con Com and Volunteers this year did a truly amazing job and created and ran the best possible convention that they could.
We would like to be able to thank everyone that came before us and helped out these past few years as well as the time and effort brought forth by our own Con Com, but there are just too many to be named. So on behalf of the co-chairs, please accept our deepest thanks and appreciations. Your efforts will not be forgotten.
The program book for KeyCon25 is available here or by clicking the image below. This should answer all or most of your questions regarding the con, please be patient as the pdf is a decent size. See you on Friday!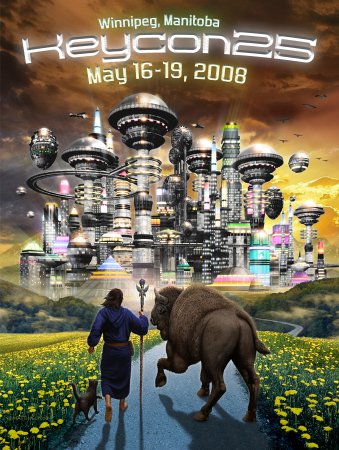 The 25th Anniversary edition of KeyCon is rapidly approaching and the Convention Committee has been working diligently to bring you a memorable event.
We have a complete slate of Guests who cover the broadest range of related interests. On the web page you can sign up for the 25th Anniversary Dinner-- along with speeches from our guests, the Dinner will also feature merit awards to people who have contributed to Science Fiction & Fantasy over KeyConís history, followed by the presentation of the 2008 Canadian National Aurora Awards.
The programming team has been working hard to assemble an interesting and diverse range of panels and workshops. Without their very hard work we would not be able to offer our members such enjoyable activities. There will also be book launches, author readings, Questions asked and answered, masquerades, music, dancing and more. KeyCon looks forward to seeing you all in May. Bring a Friend; it will be enjoyable and fun.
John Mansfield
KeyCon25 Co-Chair
Wow! Only a few more sleeps to KeyCon25! And itís going to be a biggie. Our 25th Anniversary Edition will be running four days and have so much jammed packed into it that I wonít be getting any sleep at the con. As you can see from the Progress Report, we have done a lot to make KeyCon25 an extra special year. With the Masquerade being split up into three events, a tonne of Guests, and CANvention and programming galore, it is shaping up to be a doozie.
But work still needs to be done. We are still looking for people to help out in any way that they can. Even if it is just an idea or a willingness to hang around a room for a bit of time and talk, it will be appreciated by those running the convention and more importantly, by those attending the convention. See you there!
Dave Strang
KeyCon25 Co-Chair
We all lost a beloved friend and volunteer this year: Mildred Speer.
Millie was a KeyCon constant from the very beginning. In 2007 she was elected to the WINSFA Senate. Tragically, she passed away in December.
Millie was a long time fan. She started with Star Trek Winnipeg (STW), and embraced Keycon when it was created by hardworking, dedicated volunteers (which Millie quickly became). She volunteered for the 1994 WorldCon bid committee, and then at ConAdian itself.
I fondly remember the time Millie and I ran a consuite for STW at one KeyCon: MillieAmbersí Restaurant at the End of the Universe. We had a ball! Millie also volunteered on various concoms in various positions. She was always up to the task, even if she had never done it before.
She loved speculative fiction, and being just a tad bit Irish, she loved to "debate" anything. She also enjoyed just sitting and listening, and occasionally playing the guitar. Millie was passionate about many things. She poured her heart and soul into them all. She will be greatly missed.
LeAmber Raven
Keycon would like to thank you for Visiting our site, we hope to see you at Keycon 25!