2011 Keycon Guests of Honour
Get ready to welcome our 2011 line up of guests:
Author Guest of Honour - L. E. Modesitt, Jr.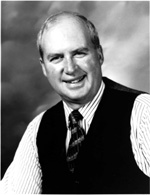 L. E. Modesitt, Jr. - The Official Website
Image and biography are from official website
L. E. Modesitt, Jr. is the bestselling author of over forty novels encompassing two science fiction series and three fantasy series, as well as several other novels in the science fiction genre.
Mr. Modesitt has been a delivery boy; a lifeguard; an unpaid radio disc jockey; a U.S. Navy pilot; a market research analyst; a real estate agent; a director of research for a political campaign; legislative assistant and staff director for a U.S. Congressman; Director of Legislation and Congressional Relations for the U.S. Environmental Protection Agency; a consultant on environmental, regulatory, and communications issues; and a college lecturer and writer in residence. In addition to his novels, Mr. Modesitt has published technical studies and articles, columns, poetry, and a number of science fiction stories. His first story was published in 1973. He lives in Cedar City, Utah.
---
Artist Guest of Honour - Darrell K. Sweet
CANCELLED DUE TO ILLNESS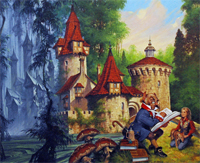 Official Website
Image from Darrell K. Sweet's website; biography from Wikipedia
Darrell K. Sweet (born 1934 in Highland Park, New Jersey) is a professional illustrator best known for providing cover art for science fiction and fantasy novels, in which capacity he was nominated for Hugo award in 1983. He also produces art for trading cards and calendars. He is famous for providing the covers of the fantasy epic saga The Wheel of Time. He is also the illustrator for the well-known Xanth series by Piers Anthony, the Saga of Recluce series by L. E. Modesitt, Jr. and the Runelords series by David Farland as well as the original cover artist for Stephen R. Donaldson's series The Chronicles of Thomas Covenant the Unbeliever.
As of 2005, he has produced over 3000 images, beginning in 1975.
---
Artist Guest of Honour - Theresa Mather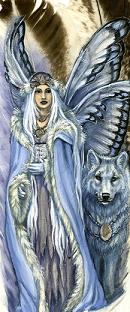 Rock Feather Scissors
Biography from Theresa Mather's website
A professional artist since 1989, Theresa Mather creates fantasy works featuring a variety of unusual creatures. Best known for her pieces painted on feathers and stone, integrating her paintings with the natural colors and textures of the surface, Theresa draws much of her inspiration from the world around her.
"When I need inspiration, I go hiking somewhere," is what Theresa tells those who inquire. Theresa and her husband Barry Short reside in Cedar City, Utah, where the many nearby national parks – Zion, Bryce Canyon, Capital Reef, Arches, Canyonlands, and Grand Canyon - give her plenty of opportunity to find inspiration.
Theresa is an artist who chooses to work outside of gaming and publication, exhibiting and selling her work at science fiction convention art shows across the country. She enjoys the freedom this gives her to paint whatever she desires, allowing her paintings to be truly her creations. She was active in the field of antique carousel restoration from 1989 through 1999, painting suites of large scale paintings for the crestings of 5 antique carousels and decorative paintwork for a sixth.
While Theresa does have some formal art training, she suggests that those curious about this aspect of her background simply rent and watch the movie Art School Confidential, which parallels her experience quite well. She's learned that when it comes to creating art, classrooms are no substitute for simply doing the work.
Theresa exhibits at over 70 shows each year and is the recipient of numerous awards, including Popular Choice Best of Show at ConJose, the 2002 Worldcon.
---
Editor Guest of Honour - Barbara Galler-Smith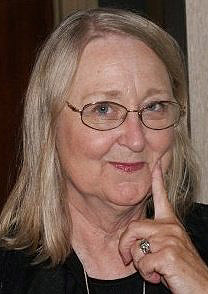 EDGE and Tesseract Books
On Spec Magazine
Image from EDGE Website; Biography from On Spec Magazine website
Author Barb Galler-Smith resides in Edmonton with her fabulously supportive husband, John, and two Yorkies, Darby and Sailor Moon. She's a former Compuserve IMP, a member of Edmonton's Cult of Pain writers group, and a new group of emerging writers called "the Scruffies". She's also busy editing with On Spec magazine. where she gets to read lots and lots of stories. She is terribly proud her recent novel DRUIDS, a collaboration with US Author Josh Langston, was nominated for 2010 Aurora Award for Best Novel in English. The second book in the series is scheduled for Spring 2011, from Edge Science Fiction and Fantasy Publishing.