Website Credit:
     Keycon 2013 would like to thank the three wonderful artists who brought our website to life!
This growing website would not be possible without the hard work they put into the base art for it.
Without them our website monkey wouldn't have anything to work with.
    These three artists sat down on Saturday of the Keycon weekend and had us a website design by the end of the day. Now our web monkey is allowing it to grow with the site. As updates happen the image changes, and will eventually be a digital representation of the art they created.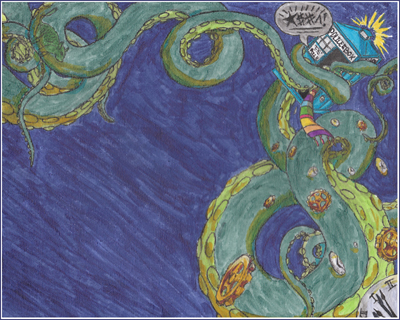 Please visit the artist websites to see more of the wonderful art work they create!
Maureen Babb - Greek Amazon
Stephan(ie) Black - Deviant Art
Dara "MausuZ" Johnson- Deviant Art
And a giant thank you to Phynix Caskey for original website layout.
---
All images, graphics, and content on these pages are © Keycon Science Fiction Fantasy Convention Winnipeg, 1983 - 2012.
All rights reserved.
Chat with 2014!
Date: TBD
Time: TBD
Location:
TBD