Welcome to Keycon
Thank you for visiting KeyCon. Our con-chairs are working hard to make this year another great KeyCon experience. For 2009 we will be going back to a three day convention running from May 15th to 17th. There will be much more information posted here over the next few weeks and there will be regular updates through the year up to the con so come back and see what will be happening for 2009. The forum is a great place to communicate to the community if you have suggestions or comments or just want to see what others have to say about the con.
Thank You!
Keycon 26 has come and gone, and wow, what a weekend it was. Everyone that I've talked to who was there feels they were part of something special. Glen and I have posted our thanks in the forums Here.
Please drop by the forums and share your thoughts about this year's convention.
Soon enough we will be turning over this Website to Leamber & Ed, keep your eyes peeled, they have a lot of great plans in store for next year!
Thanks again to everyone who helped make this year something special and truly memorable.

~Brian Mitchell
Co-Chair Keycon 26
Still Seeking Chairs for 2011
As of closing ceremonies we have not received any bids for Keycon 2011. Anyone interested in chairing Keycon can submit their intention to bid by sending an email to noemail@keycon.org
Bids should be received no later then 11:59 PM May 23, 2009.
The Keycon Readoff
New this con! Brave souls will step up in front friends, family, and complete strangers to share a three to five minute story they have written. See http://keycon.org/readoff.php for complete details.
Angels & Demons - The Science Revealed
A public lecture by subatomic physicists Drs. G. Gwinner, K. Sharma of the University of Manitoba and J. Martin of the University of Winnipeg, with Scott Young of the Manitoba Museum.
This May will see the world premiere of Angels & Demons, an action-packed thriller based on Dan Brown's best-selling novel that focuses on an apparent plot to destroy the Vatican using a small amount of antimatter. In the book and the movie, that antimatter is made using the Large Hadron Collider and is stolen from the European particle physics laboratory CERN. Parts of the movie were actually filmed at CERN. It's not every day that a major motion picture places particle physics in the spotlight, especially one starring Tom Hanks and directed by Ron Howard. Through a series of public lectures, the particle physics community is using this opportunity to tell the world about the real science of antimatter, the Large Hadron Collider and the excitement of particle physics research.
Where: The Manitoba Museum Auditorium, 190 Rupert Ave, Winnipeg.
When: Saturday, May 23rd, 2009 at 2:00pm.
Admission is free, seating is first come, first served. More info at: http://www.physics.umanitoba.ca/~gwinner/angels.html
gwinner@physics.umanitoba.ca
Progress Report #2
Progress Report #2 is ready! It may be downloaded from http://keycon.org/PR2.pdf. Hard copies will be available soon at your local merchants. Please also remeber to check for memberships at the stores you dropped off items at.
Keycon Guests
John E Kaufmann

Besides creating wonderful Astronomical, Sci/Fi, and Fantasy paintings John stays busy as an illustrator for the education and advertising markets. With over 20 years of experience in commercial art he has recently struck out in the Sci/Fi Fantasy field. John's work has been chosen for numerous awards at art shows across the country and he loves to participate in convention activities. He and his very supportive wife share a home with three great kids, a guinea pig, a cat, a dog, and a blue parakeet named Paco.
Please visit his website: jek2004.com
Katherine Kurtz

Katherine Kurtz is the author of the Deryni Series, The Adept Series, the Templar Series, and several other works. She defined and established her own sub-genre of "historical fantasy" set in close parallels to our own medieval period and featuring "magic" that much resembles what some of us might call extrasensory perception. Additionally Katherine utilized her historical training to develop another sub-genre she calls "crypto-history," in which the "history behind the history" intertwines with the "official" histories.
Please visit her website: rhemuthcastle.com
Additionally you can check out her biography on the wiki section of her site.
Kelley Armstrong

Kelley Armstrong has been telling stories since before she could write. Her earliest written efforts were disastrous. If asked for a story about girls and dolls, hers would invariably feature undead girls and evil dolls, much to her teachers' dismay. All efforts to make her produce "normal" stories failed. Today, she continues to spin tales of ghosts and demons and werewolves, while safely locked away in her basement writing dungeon. She's the author of the NYT-bestselling "Women of the Otherworld" paranormal suspense series and "Darkest Powers" young adult urban fantasy trilogy, as well as the Nadia Stafford crime series. Armstrong lives in southwestern Ontario with her husband, kids and far too many pets.
Please visit her website: kelleyarmstrong.com
Ed and Red

Ed: Debuting in 1987 on a local cable-access show in Toronto, Ed has steadily ascended from novelty character to become Canada's most-loved and most successful pop culture hero and celebrated wit.

Red: Obviously, Liana is not your typical female, which becomes even more apparent when you watch her spar with Ed. Liana's comedy is not like that of traditional female comics, who are content to brand themselves with gender-based humour. Liana's comedy is rife with clever, cerebral references, but she's never afraid to wade into the muck and mire of 'guy humour' and beat Ed at his own game.
Luke Ski and Worm Quartet (ShoEboX)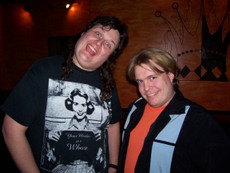 Luke Ski: Luke Ski is back with all his music and humour to entertain us. Last year he was praised for his fine performances and music. We are excited to have him back and he is bringing a friend!
Worm Quartet (AKA ShoEboX): The one-man bemulleted God of comedy synth-punk is performing in Canada for the first time. Come witness one of Dr. Demento's biggest stars of the decade live!
the great Luke Ski: http://www.thegreatlukeski.com & Worm Quartet: http://www.wormquartet.com
What is Fantasy Flight?
Fantasy Flight Publishing was founded in 1995 by Christian T. Petersen. In the time that has passed since our first game, Twilight Imperium, was published, Fantasy Flight Games has grown to be one of the biggest names in the hobby games industry. We have become a leader in terms of quality and components, with highly detailed plastic miniatures and beautiful artwork on rulebooks, cards, and game boards.
FFG's best-known titles include licensed games such as Battlestar Galactica, World of Warcraft: the Adventure Game, a line of board games based on J.R.R. Tolkien's The Lord of the Rings, board and card games based on George R.R. Martin's A Song of Ice and Fire series of novels, and board and roleplaying games set in the worlds of Games Workshop's Warhammer Fantasy and Warhammer 40,000; plus a large line of original titles such as the rollicking dungeon crawl Descent: Journeys in the Dark and the galaxy-spanning saga Twilight Imperium.