Speakers: Laurie E. Smith and Sean Ennis
Keycon brings back the "Keycon's Got Talent" show. Members are invited to show off an act or talent before a live audience. The talent could be musical, spoken word, magic, ventriloquism, comedy or something completely different but we'll keep the costumes for the Masquerade. We are hoping to have access to a sound system, so bringing your own backing track is a possibility.
Participants should aim for a maximum of four (4) minutes to demonstrate their G or PG rated talent. However, with sufficient notice and availability we can try schedule longer pieces.
Pre-register on line by completing and e-mailing the following form webmaster2017@keycon.org by 6pm CST on May 18, 2017.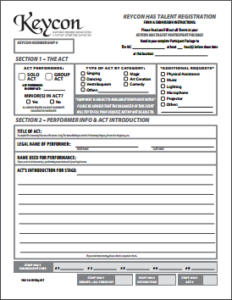 At the convention, members can register for Keycon's Got Talent with Sean Ennis before or after Opening Ceremonies, during the Icecream Social or at the talent show.
Event Timeslots (1)