Speakers: Mike McCall
Star Wars: The Theed Accords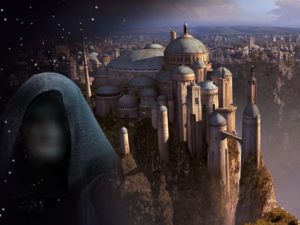 Join us a long time ago in a galaxy far, faraway! Take the role of diplomats, Rebels, Imperials and Jedi, and determine the fate of Naboo in the wake of the Empire's fall!
Star Wars: The Theed Accords is a live-action event which will take place in the halls and rooms of Keycon over the Friday and Saturdays. One part improvised drama and one part roleplaying game, players will take the roles of pre-established characters and explore the possibilities of adventure and intrigue. A variation of the Fate rules will be used to resolve combat and other action, but no knowledge of the rules or previous experience LARPing is needed.
To sign up, or for further information, contact Mike McCall (on Facebook through mike.r.mccall or on the Keycon Facebook Group), or check out the website (https://vagabondproductionsblog.wordpress.com/about/star-wars-the-theed-accords/).
Event Timeslots (2)
Ambassador B
-
A long time ago, in a galaxy far, far away… Freedom has returned to the galaxy. The forces of the New Republic have liberated the world of Naboo from Imperial Grand Moff Soldiss. A Republic ambassadorial delegation is arriving at the capitol city of Theed to restore Naboo to its place in the Republic. The Star Wars LARP will begin with the meeting of all the characters in Theed\'s throne room. After the initial scene, play will move out into the public areas of the convention.
Ambassador B
-
Our Star Wars LARP comes to a close with the final negotiations between the Republic, the Empire, and the various rebel groups on Naboo. Who will command the planet in the end? It\'s all up to the players!