What is a Hospitality Suite?
Think of the Hospitality Suites as the official room parties for the convention. Typically they will be themed, often along one or more genres of fandom.
Keycon's Hospitality suites are more than just a couple of suites. It's the entire 15th floor of the Radisson. The stories from conventions past have helped the floor transcend to legendary status. From hallway sing-a-longs to spooky suites; new friends found and old friends rediscovered.
The Hospitality Suites for 2016 are nearly all booked. If you have questions about Hospitality, please contact our coordinator.
A Note From Our Coordinator
Hello peoples and welcome to the 15th floor. This year Hospitality is happy to present for your viewing, singing, dining and "various" other pleasures a wide range of Suites. We have a couple of new groups this year and a few of our favourites have returned. A few very important items for you to remember at all times. Please, remember to wear your badges at all times and have your official government photo ID on you if you wish to partake of an "adult" beverage. NO ID means NO SERVICE. All service animals must be registered with the Conventions Registration and proof of this will be required. Service animals are not to be in the area where food is being served in the hospitality suites. Please remember that alcoholic beverages are not to be taken off the 15th floor. The hotel is not just ours and we must be mindful of the laws both City and Provincial. So Come, Sing, Drink, Eat and have fun!!!
Official Hospitality Suite
Questions about the Official Hospitality Suite
Check out the Official Hospitality Suite FAQ.
Line-up for the 15th floor
Room Descriptions
1500: SFW – Flynn's Bar & Arcade
Ever get the urge to dance to Duran Duran, Tears for Fear or Streetheart? Then head on up to Flynn's! Bring your glow-in- the-dark sunglasses and neon t-shirt – it's time to rock '80s style! Check out Flynn's Arcade area with video games from the retro era. Tournaments are going on throughout the weekend. Hosted by SFW [Science Fiction Winnipeg]
1502: "OFFICIAL" McFly's
*
Come take a ride "Back to the Future".
Selfies needed to Save the Clock Tower.
1504: Medieval Knights
We three ladies invite you to step into the 11th century in our castle hall. Surrender yourself to an age of bravery and honour. Join us for complete healthy meals or cold beverages plus tasty morsels for snacking and a Royal Sunday dinner fit for a King or Queen. We have adult or virgin drinks to chill out with in our hall. Our own home grown Bard Adam Knight (published author) will entertain you with stories, or join epic tale-telling with a story of your own! Perhaps you fancy a chance to win our contests – a sword for brave knights or perhaps a purse of coins in a 50/50 draws?
1506: Kame Cafe
The Kame Cafe invites you to come in and relax, read manga, play some DDR, and talk about your favorite anime. The Tomodachi Anime Club welcomes you to our little home here at Keycon, and we are a welcoming bunch of people. All ages are welcome, during the day, after 9:00pm we will be welcoming an older crowd and have some anime themed drinks available for your consumption. Wanna know what's happening here? We will have a schedule posted up so you can see what shenanigans we have in store and when we'll be around! Tomodachi means friends, come and join us today!1508: WAC
Back again for the zillionth straight year, the WAC room brings you popcorn and 24/7 Anime. From Steamboy to Howl's Moving Castle, you'll find your Japanese anime fix here!
1510: N/A
Operations
1512: D&D
Ironmongery and a place to spend your gold!
1514: Daily Special
Friday Night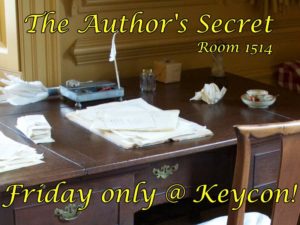 The Author's Secret: A Puzzle/Scavenger Adventure! Arthur Hummingbird is presenting his collected works about another universe he has used as the basis for his many books. Unfortunately, his last trip has made him completely forget everything! He has less than an hour before his presentation and needs you need to go through his puzzle-laden room to find as much of his data as possible! Good luck!
A timed event running about 40 minutes per group, Friday only! Sign-ups available on Facebook. Max players: 6. Subject to change
Saturday Night – Ai-Kon
No one has more game than Ai-Kon! Returning once again to Key-Con is the Retro Gamer's Lounge for a limited one day Saturday engagement.
Dive into nostalgia and put your feet up during the day in this chill environment with all of your favorite old school consoles and childhood games at your fingertips. As the sun goes down the music dial goes up; we'll be kicking it old school with techy beats, 90s animes sing-along throws down and of course late night shenanigans.
So drop on by and level up your day, all are welcome Plumber, Princess or Goomba!
Sunday – TRMN / Keycon 35
TRMN – Doors open at 1:00p pm
The crew of the HMS Peregrine would like to invite everyone to join them in the Wardroom on Sunday as we celebrate our 2 year commissioning anniversary. as well as the 10th anniversary of the Royal Manticoran Navy official David Weber Fan club.
We will be rolling pods in the evening, having snacks, playing games and service cake. Please stop by for a visit, and find out more about what the HMS Peregrine and our Marine Detachment is doing here in Winnipeg.
Keycon 35 – Starting at 7:30pm
Your hosts are PIerre Leblond and Cliff Stornel – Keycon 35 Co-ConChairs! The gents will be available to answer your questions, sell memberships for Keycon 35, and take Hospitality Suite requests.
They are always looking for feedback and ideas to make your convention experience memorable. So pull up a chair, grab a beverage and enjoy getting to know your Keycon 35 Chair's!
1516: The Dandy Lion
We are a group of friends who love music- talking about, listening to, playing it, singing, harmonizing, you name it. Most of us have been regular attendees at Keycon for many years but; one year, we realized that our love of music frequently kept us from visiting with our other friends on the 15th Floor, thus the concept of a Filk hospitality suite was born. Looking for gluten-free food? We serve coffee and tea throughout the day, as well as a variety of baked goods (all gluten free). Come for some caffeine, stay for or just come for the music – either way, we'd love to see you. We will be serving all day breakfast: gluten-free oatmeal with lots of fruit choices as add-ons! This year, we will also be offering gluten-free soup throughout the day as supplies last and don't forget the smoothies! Buy a coffee mug for $5 and have free coffee, tea, or smoothies the rest of the Con!
1518: The Shadow Circus
Ladies and gentlemen, boys and girls of all ages, come one come all to The Shadow Circus. The Obsidian sisters; proprietors of The Black Rose Noshery, have purchased a circus! Enjoy the mysterious ambiance of curiosity and wonder under the "Big Top". Explore your past, present and future through the mystical talents of Madame Obsidian, pose a question to the Book of Answers, enjoy some music, special events or perhaps you'd prefer a game of chance. To satisfy your cravings visit our concession stand where we'll be offering an extensive menu of refreshments, coffee, tea, snacks, meals and more. In the evening hours the Shadow Circus After-Hours invites anyone who loves the mysteries of the night to attend as libations of many flavours; both alcoholic and not, will appear as well as music, games and snacks.
Hospitality Floor (15)